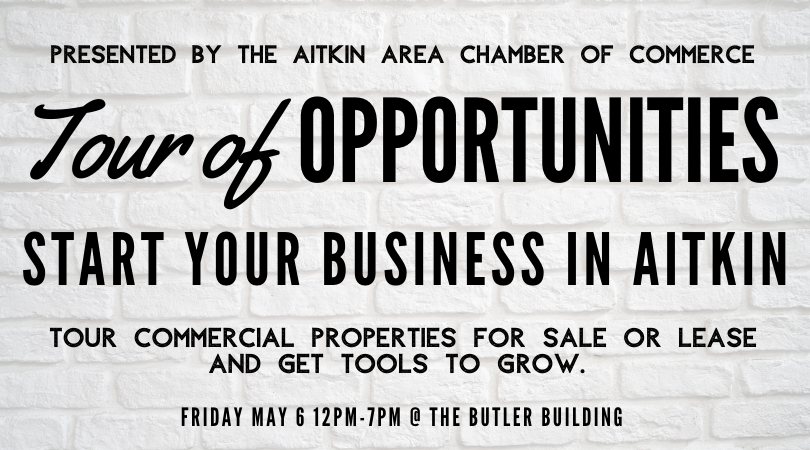 Aitkin to host Tour of Opportunities
The Aitkin Area Chamber of Commerce is calling all dreamers and doers to their Tour of Opportunities on Friday May 6 in Aitkin, MN. It's an open house to show entrepreneurs investment and rental properties that are available within the City of Aitkin and get resources to start their business.

"Our goal is to give people tools to start or grow their businesses in Aitkin," said Taylor Erickson, the executive director of Aitkin Area Chamber of Commerce. "We know there are entrepreneurs in our region with great ideas, and we want to help turn those ideas into something profitable."

During Tour hours, attendees should check-in at the Butler Building in downtown Aitkin. There, they can receive listings for the available properties and learn about writing business plans, available loans and grants, and other business resources including marketing, employee training, and ongoing professional development.
The Small Business Development Center will provide guidance on writing a business plan, and other economic development agencies such as the Minnesota Department of Employment and Economic Development (DEED) , Launch 218, and the Entrepreneur Fund will have additional information available. Local agencies include Growth Innovations, the Aitkin Economic Development Authority, and several banks.

"Guests will leave the Tour with a step-by-step plan on how to open a successful business," Erickson said. "We'll show you how to navigate everything from planning, funding, and permits to your grand opening and beyond."
The Tour of Opportunities is presented by the Aitkin Area Chamber's economic development committee. Their goal is to champion the retention, expansion, and attraction of chamber members and area businesses.
The Tour of Opportunities is 12 pm -7 pm on Friday, May 6.
Resource pick-up for the Tour will be at the historic Butler Building in downtown Aitkin at 301 Minnesota Ave N.
For more information or to participate in the Tour, please visit aitkin.com/tour or contact Taylor Erickson at 1-218-927-2316.